2000 Fedcon 8
Conventions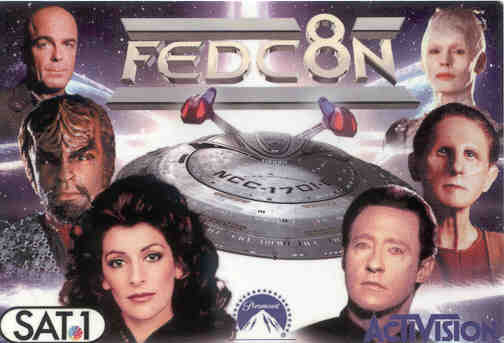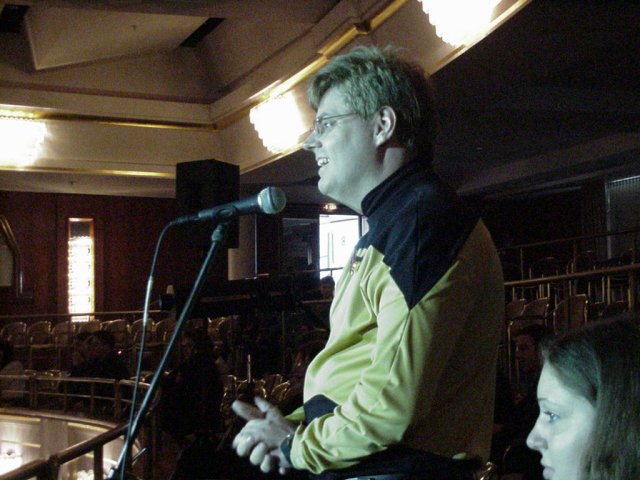 Federation Convention 8 in Bonn, Germany

19th-21st May, 2000


From the 19th-21st May, I attended the Star Trek Federation Convention that took place in the Maritim Hotel in Bonn. This was the second time I have attended this annual event and this time I took a number of pictures that I have released online on this website.

Live long and prosper!

Peter

Fedcon 8 started with a tremendous fan-film called "Digital Ghost", made in Germany and in German by Tobias Richter of "The Light Works" - A company specialising in digital imagery.

As in other fan films, nobody was paid in the making of this this film and it is not allowed to sell this film. It was however released on DVD as part of a Bonus DVD distributed to those who purchased the TNG series on DVD in Germany. It was produced entirely with virtual sets and with the help of many professionals from a variety of areas, in front of the camera and behind it. "FedCon 8 - Digital Ghost" is a co-production of "The Light Works" and "van Wingerden Filmproduktion". It was the opening movie for the "Federation Convention 8" (2000) at Maritim Hotel Bonn and received a standing ovation from the fans when it was shown at the Opening Ceremony for the first time.

The film was awarded the Animago Prize 2001 in the Category "Professional Animation Film"


Role

Played by:

Commander Stanley

Erich Redman

Lieutnant Odyssee

Kerstin Klinz

Roxanne

Judith Hörsch

Director

Thomas Wolff

Production Liveshoot

Joost van Wingerden

Production Post

Tobias Richter

Camera

Wolfgang Wesemann

Script

Stephan Lenzen, Thomas Wolff,
Joost van Wingerden

Makeup

Frank Hard

Sound

Ralph Rippinger

Music

Roman Schönsee
German audio - Subtitles available in English, Spanish and Portuguese.
Model Show

There were a number of interesting model from the show (some made by fans). Here are some pictures of the most interesting ones.


Marina Sirtis

Counseler Troi from Star Trek: The Next Generation.


Brent Spiner

Data from Star Trek: The Next Generation.


Michael Dorn and René Auberjonois

Worf from Star Trek: The Next Generation

Odo from Star Trek: Deep Space Nine.